Biography
Shaul is a writer living in Vancouver, Canada. His works include the following:
1985
- The law book "International Exporting Agreements," published by LexisNexis, New York.
2008
- "The Nubian Princess," a biblical novel.
2010
- "The Masks of Oscar Wilde," a play about the life of Wilde, which premiered in Vancouver, B.C. in 2014.
2010
- "The Matchmaker of Montreal," a romantic comedy set in Montreal and the first of a trilogy of plays. This play premiered in 2013 at The Firehall Arts Centre in Vancouver.
2012
- "The Concierge of Vancouver," a comedy about the Vancouver housing crisis which opens October 6, 2016 at Studio 1398 in Vancouver.
He is writing a play set in Toronto, the third in the trilogy.
His plays are produced by his Vancouver-based company Matchmaker Productions.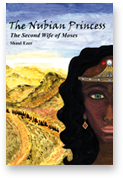 Since ancient times, people have wondered about the second wife of Moses, the Hebrew prophet. Who was this black woman? How did Moses meet her in the Sinai wilderness after the Exodus from Egypt? Why did Moses' older siblings Miriam and Aaron rebel against him for marrying her?
The Nubian Princess